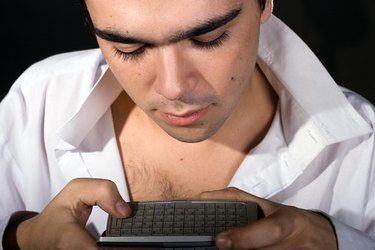 Text messaging is a convenient way to stay in touch without interrupting the other person's day with a phone call. However, you may receive text messages you don't want. Blocking a text message because it's spam, from an unknown source or because you don't want to get texts from the sender is relatively easy. With Verizon, you block text messages by managing your account online.
Step 1
Log into the Verizon Wireless website (full link in Resources).
Step 2
Register with Verizon if you have not already done so. Click the "Register" link at the right side of the page. Fill in the requested information and create a password.
Step 3
Select "My Services," and then choose "Verizon Safeguards."
Step 4
Choose "Spam Controls," and then "Internet Spam Blocking."
Step 5
To block Internet spamming, enter the Internet domain or email to block. To block a specific phone number, enter the number of the cell phone you'd like to block. Click "Save" to block these numbers.