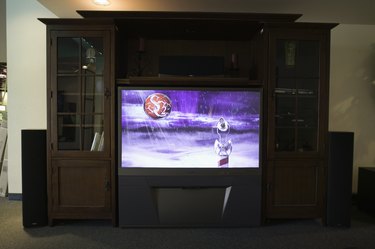 The switch to digital broadcast signals and Blu-ray technology may have combined to make your old projection TV obsolete. However, simply dumping your projection TV in an alley or trash dumpster is not an environmentally responsible act. Before taking this approach, ask family or friends if they may want to take the old projection set off your hands. Proper disposal of your projection TV will help keep the Earth free of access waste and clutter.
Disposing of a Projection TV
Step 1
Donate your old projection television to charitable organizations like the Salvation Army or Goodwill that could benefit from your donation. In fact, your projection TV may be picked up at your doorstep, depending on your location and the organization you're donating to.
Step 2
Locate a recycling company that accepts projection TV sets. Gazelle.com and Wm.com are just two of the many waste management companies you can use to dispose of your projection TV. In some instances, companies like Gazelle.com will pay for your projection TV as opposed to recycling it. You may be required to bring your projection TV to the recycling company's facility, or they may send you a box to ship your TV in. Most recycling companies will handle the cost to have your TV shipped to their designated recycling facility
Step 3
Join an organization like Freecycle. It's a nonprofit organization that allows members to give and receive electronics, and other items of use. Send an email offering your TV to other members of the Freecycle network. If you wish, you may specify that your projection TV go to a nonprofit organization instead of an individual. Otherwise, select the member whom you want to receive your TV . Schedule a pick up day and time. If there isn't any way to schedule a pick up, you and the receiver may need to work out shipping arrangements.