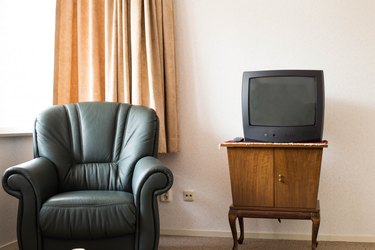 Television technology has undergone big changes in recent years, with flat screens and smart TVs replacing older analog models based on a cathode ray tube (CRT). If you just got a new set, you may be able to donate your analog TV to a charitable organization. You may even be able to find one that will pick up your donation. Old sets that are no longer working should be disposed of following the rules for electronic waste.
How to Donate a CRT TV
When you donate an analog TV to charity, you will not only be helping the environment by keeping it out of a landfill. You'll also be giving a family, individual or local group the chance to enjoy the use of your set. You'll also be helping yourself by getting rid of an old appliance you no longer need.
The first step in donating an older television is finding an organization that will accept it. Many charities that accept furniture and clothing don't want CRT televisions since they're no longer in demand. Besides charities, check with local schools and libraries to see if they can use your old TV that's still working. Senior centers, community centers and group homes may also be able to use an older TV.
Goodwill and Salvation Army TV Policies
Goodwill is one of the largest charities that accept donations of furniture and household items which are then sold in its nonprofit thrift stores. The organization doesn't have a national policy about accepting CRT televisions. Local Goodwill branches are allowed to set their own rules about what they will and will not accept, so it's best to call a local Goodwill store and check on their donation policy rather than researching the national organization.
The Salvation Army organization is also run at the local level, with regional offices setting donation rules. If your local branch accepts tube TVs, you may be able to schedule a free Salvation Army pick up. Since the Salvation Army and Goodwill are nonprofits, you can take a deduction for the value of your TV donation if you itemize deductions on your taxes. Be sure to ask for a receipt for your donation if you plan on taking a tax deduction.
TV Donations That Pick Up
A quick way to find charities that will pick up old TVs and other donations is by searching an online donation directory. These websites simplify the donation process by allowing you to enter your zip code to find organizations that will pick up items in your area.
You may even be able to schedule a pick up at the same time. DonationTown.org is one of the most popular donation directory sites. The organization works directly with national charities like Habitat for Humanity and the Salvation Army and is especially interested in helping people donate televisions to charity.
Recycling a Tube TV
If you're unable to find a charity that will accept your old tube TV or if you have one that no longer works, disposing of it may be your only option. Television sets contain toxic substances like lead and mercury, so you'll need to find out about the rules and regulations for electronics disposal in your area. Most communities will not take old electronics that are left with the garbage. You may find it easier to pay a service to haul your television away and make sure it's recycled correctly.
Many people don't know that Amazon offers TV disposal services. For a fee, you can have your TV removed and properly recycled. Junk hauling companies like Junk King and 1-800-GOT-JUNK also offer television disposal services. Also, if you buy a new television at Best Buy, you can pay a fee to have your old set removed and properly recycled. The important thing to remember about these services is that they will, in most cases, dispose of your TV rather than donating it to an organization the will make use of it if it's still working.