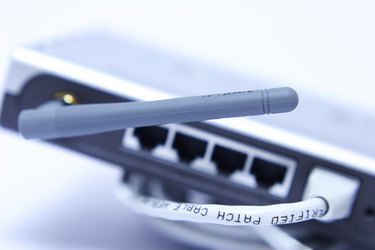 Performing a factory reset on the Asus RT-N16 router clears all of your configurations and returns the original settings, which can help if you've made extensive changes, experienced uncorrectable problems or are simply getting rid of the router. If you plan to reconfigure your prior settings, you can make a backup first and reset the router through the Web utility. If you don't have access to this utility, you can alternatively use the reset button, but you won't be able to back up your settings.
Using the Reset Button
The reset button, which is labeled "Reset" on the back of the router, is the quickest way to restore defaults; simply press the button for more than five seconds. However, if you're resetting the router after upgrading the firmware, you may need to additionally unplug the router, wait five seconds and plug it back in after the initial reset.
Using the Web Utility
The browser-based utility gives you access to all the settings on the router. To log in, type the address "192.168.1.1" (without quotes here and in subsequent commands) into the browser and press "Enter." If you haven't set up your own credentials, log in with the default credentials, "admin" and "admin." Click "Administration" from the Advanced Settings menu and then select "Restore/Save/Upload Setting." Select "Save" to export your settings to a file on your computer and click "Save" in the download window. You can later upload the saved settings in the "Restore/Save/Upload Setting" menu to reload your settings. Select "Restore" to reset the router and restore factory defaults.