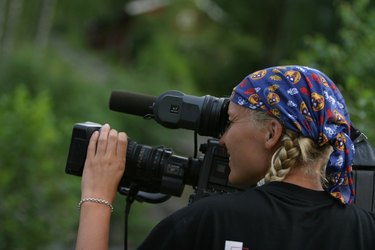 When someone clones themselves or puts themselves side-by-side in a video, it may seem like some complicated movie magic. However, this effect can even be done with simple video editors such as Windows Movie Maker, with the help of some third-party tools. To get started creating this fancy effect, start with Windows Movie Maker on your computer.
Step 1
Set up a tripod to record a static shot. Record the image you want to show on one side of the screen, then record the image you want on the left, or vice versa. The trick here is to make sure the camera is in the same location for both sides.
Step 2
Navigate to the "Split Video" freeware page and click "Download." When a pop-up window appears, click "Save File."
Step 3
Open the file you just downloaded by opening a "Windows Explorer" window and selecting "Rehans Split" from the files on your computer.
Step 4
Click the box next to "Extract To" and select "Movie Maker" from the list of program files on your computer. This will typically be stored in your computer's "C:" drive.
Step 5
Open the "Shared" file within the "Movie Maker" folder, and then create a new file called "AddOn TFX." Click "OK," and then "Extract."
Step 6
Upload the video you shot for the side-by-side effect by connecting your camera to your computer, opening Windows Movie Maker and clicking "File," then "Upload from Media Device." Upload the video you shot from the left and right sides.
Step 7
Drag the video from the left side and the video from the right side to the Timeline as separate clips.
Step 8
Drag the clip on the right over the clip on the left on the Timeline, as if you were going to make the clips fade from one to the other. Drag the right clip onto the left as far as you can before it disappears. You'll see a transition title called "Fade" between the two clips.
Step 9
Click "Video Transitions" and scroll to the "Split Vertical Soft" transition from the menu. Drag the effect to the Timeline where your cursor sits between the two clips. The transition title between the two clips should now say "Split Vertical Soft." You have now successfully done the side-by-side effect in Windows Movie Maker.