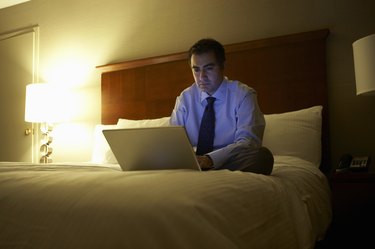 Microsoft offers a free trial of its productivity suite, Microsoft Office, to anyone who wants to try out Word, Excel or the other Office applications. You won't have to pay a penny for the trial, but if you keep using the software after a month, Microsoft charges a subscription fee. As an alternative to the subscription, you could buy a retail copy of Office or switch to a completely free alternative, such as OpenOffice or LibreOffice.
Trial Plan Options
Microsoft offers two free trial plans for Office 365. Both include the full range of software included with a paid subscription: Word, Excel, PowerPoint, OneNote and Outlook, on Windows 7 and above or Mac OS X 10.6 and above. The Windows version also includes Publisher and Access. The main difference between the two plans is the number of computers that can run the software. With Office 365 Home, five users can use Office across five computers plus five mobile devices, whereas Office 365 Personal works for only one person on one computer and one device. Both plans provide one free month, but thereafter the Home plan costs $9.99 per month, while the Personal plan costs only $6.99 monthly.
Start a Free Trial
To start your trial, visit the trial Web page (link in References) and choose a plan. You'll need to log in with a Microsoft account -- the same account you use for Windows 8, Outlook.com, Xbox Live or Skype -- or create one for free. You also need to enter your credit card information for billing, in case you keep your subscription after the first month. After registering, the site downloads an Office installer. Run this program from your downloads folder to set up Office. You don't need to pick and choose Office programs; Office 365 installations automatically include every available program.
After the Trial
If you want to keep your Office 365 subscription, you don't need to make any changes -- just keep using Office, and Microsoft will charge your credit card. If you don't want to pay, cancel your subscription from the "My Account" website before the free month runs out (link in Resources). As an alternative to Office 365, buy a retail copy of Office. Retail copies don't require a subscription fee, but unlike 365, you won't receive major updates, meaning that if you buy Office 2013, you're stuck with the 2013 edition until you buy a new copy. If you want to switch, cancel your subscription and uninstall Office 365 before installing the retail software to avoid having two conflicting copies on your computer.
Business Trials
Through the TechNet Evaluation Center, your company can try out Office before committing to a purchase. Microsoft offers trials of different time periods depending on the product. For example, Office Professional Plus 2013 suite has a 60-day trial, whereas Office 365 ProPlus has only a 30-day trial. Microsoft also provides trials of Project and Visio, which aren't included with standard Office licenses.To start, visit the TechNet Evaluation Center site (link in References), pick a product and register for a trial.