Amazon's Kindle uses its 3G Whispernet connection to download files from the Amazon store. However, when it comes to files that aren't a part of Amazon.com, such as word processor documents, PDF and text files, you must hook your Kindle directly to your computer to download them.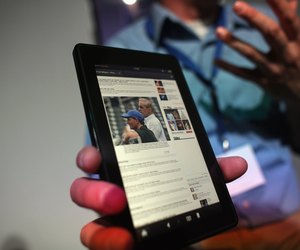 credit: Spencer Platt/Getty Images News/Getty Images
Step
Connect your Kindle to your computer via the USB cable. Wait for the computer to fully recognize your Kindle.
Step
Click "Start" on your PC, and then click on "My Computer" or "Computer," depending on your version of Windows.
Step
Double-click on the icon representing your Kindle.
Step
Keep the Kindle window open and open the folder containing the files you want to transfer to the Kindle.
Step
Drag the files to the Kindle folder. They are now accessible from your Kindle, whether or not you are still connected to your PC.