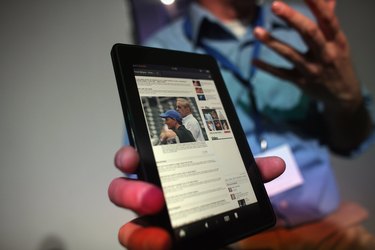 Amazon's Kindle uses its 3G Whispernet connection to download files from the Amazon store. However, when it comes to files that aren't a part of Amazon.com, such as word processor documents, PDF and text files, you must hook your Kindle directly to your computer to download them.
Step 1
Connect your Kindle to your computer via the USB cable. Wait for the computer to fully recognize your Kindle.
Step 2
Click "Start" on your PC, and then click on "My Computer" or "Computer," depending on your version of Windows.
Step 3
Double-click on the icon representing your Kindle.
Step 4
Keep the Kindle window open and open the folder containing the files you want to transfer to the Kindle.
Step 5
Drag the files to the Kindle folder. They are now accessible from your Kindle, whether or not you are still connected to your PC.
Tip
These instructions are based on a Windows operating system. However, Mac computers running OS X 10.2 or later versions can also download files to a Kindle via a USB cable.