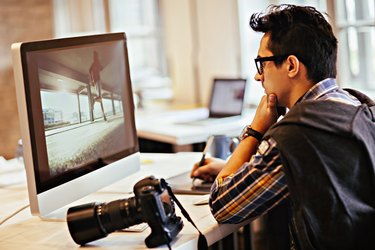 Cropping photos into circles is an easy task when you have a photo-editing program with a circle crop tool. Circle shapes make photos fit into collages, and they provide an eye-catching frame for display on digital or physical media outlets. You can crop pictures in the most basic photo programs; in most cases, downloading or using a third-party program is not necessary on a Mac or PC. You can also crop a photo online using free tools, and many apps offer cropping abilities within their own ecosystem.
Crop a Photo Online
Online photo editors are prolific with numerous free and paid options. Many of these editors have preset dimensions and photo styles designed to fit social media headers and other programs that require specific dimensions. You can also use them to create presentations, flyers and other media. The advancements in photo editors are impressive, and some programs enable nontechnical users to design attractive media. Check the toolbar in your favorite editing program for a cropping tool. Load the photo, select the cropping tool and choose a circle crop if the option is available. Some programs may even have a circle crop tool specifically. You may need to consult the help section or locate that tool on the toolbar to proceed with an easy crop.
Crop Pictures Easily
You can crop photos easily using Microsoft photo-editing programs such as Paint or Photo Editor. Even Word documents have custom-cropping abilities. Select "Insert" followed by "Pictures" to load a photo into a document or photo-editing program. Select the "Format" option and choose "Crop" and then select "Crop to Shape" in the drop-down menu. The drop-down menu displays a list of shapes from which you can select a circle. A circle shape appears overlaid on your photo. Drag the edge of the circle to adjust it until you reach the size you want. Select "Finish," and everything outside the cropping circle is removed.
Mobile Apps and Crop Tools
Mobile apps and mobile photo-editing programs also have cropping abilities. Some apps only allow square or rectangular cropping, and the limited option is immediately evident as mobile programs are often limited in their menu choices. If a circle-cropping tool is available in a mobile app, the feature is evident. You can also elect to download a circle-cropping app. Several free apps exist for iOS and Android devices, and they are specifically made to crop photos into circle shapes.