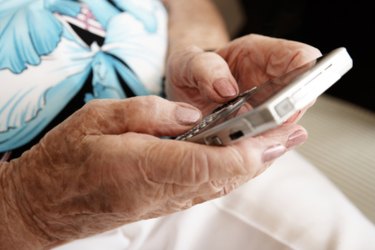 Google's Android provides users with a full-fledged mobile computing, telephone and wireless communication device. There are hundreds of settings you can customize to ensure that your Android functions the way that you want it to. All these options can be changed from the Android's primary Settings menu, which is readily available from the phone's home screen.
Step 1
Press the "Settings" icon on your Android's home screen to access the Android Settings application.
Step 2
Press "Wireless & Network" settings to change the manner in which your Android uses Wi-Fi networks, mobile networks, and Bluetooth. This opens a menu that allows you to edit the activity of Bluetooth or Wi-Fi. The menu also provides options for connecting to Wi-Fi, VPN and mobile networks.
Step 3
Press "Call Settings" to access a menu that allows you to alter the way your Android makes and receives phone calls. From this menu, you can set up call forwarding, set up an Internet calling -- SIP -- account and set up or edit voice mail settings. Through the Additional Settings sub-menu, you can also set whether to provide a caller ID on outgoing calls and whether you would like to use call waiting.
Step 4
Press "Sound Settings" to edit your phone's audio properties. This menu allows you to change your phone's ringtones, ring volume and vibration settings. You can also set up tones that sound when you press buttons and icons, or when you access certain applications.
Step 5
Press "Display Settings" to alter your Android screen's display. You can change your phone's brightness and backlight usage through this menu. You can also specify whether you want to use the Android's auto-rotate function and whether you wish to use the Android's menu-to-menu animation effects.
Step 6
Press "Location & Security Settings" to secure your phone. You can change wireless access security features and GPS features from this menu. You can also set up a PIN number, password or drawing pattern that you wish to use to password-protect your phone.
Step 7
Press "Application Settings" to modify how your Android handles installed applications. This menu allows you to view downloaded applications, running applications, and information on Android storage and processor usage. You can also edit settings regarding what types of programs can be downloaded and installed on your Android.
Step 8
Press "Accounts & Sync Settings" to set up synchronization between your phone and your Gmail account or other synchronization source.
Step 9
Press "Privacy Settings" to back up personal information to Google's Internet servers or to restore your phone to factory settings.
Step 10
Press "Storage Settings" to edit how your Android users internal and external storage devices. You can set up your Android to work with SD or USB external storage devices from this menu.
Step 11
Press "Language & Keyboard Settings" to change the language that is used on screen and to activate or deactivate physical and virtual keyboards.
Step 12
Press "Voice Input & Output Settings" to activate or deactivate your Android's voice recognition and text-to-speech features.
Step 13
Press "Date & Time Settings: to set a new date or time, or to change the time zone in which your Android is operating.