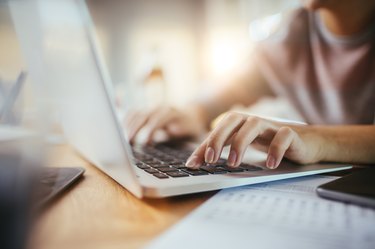 Whenever you make a Facebook post accessible to anybody other than yourself, the site allows your chosen audience to view the post, give a reaction, leave a comment and share the post to other places on the website.
Facebook makes it easy to see how many people shared your post, but site privacy settings determine whether you see the names of all those individuals. You have a few ways to determine who did share, and Facebook lets you control your sharing settings to fit your privacy needs.
How Facebook Post Sharing Works

When someone clicks the Share button at the bottom of a Facebook post, they see multiple options for where to share the post. For example, they can immediately share with their default audience and post the item to their Timeline, or they can select a custom audience that ranges from public to only them. They can also share the post to another person's Timeline, to a group or a Facebook page. They can share it via a private message or post it to their Facebook story.
Keep in mind that when someone shares your post, they get to choose the audience, so you can lose some privacy in the process. Further, if the content shared was a news article or type of media for which you added a personal comment, then the shared post usually doesn't have your personal text by default. Instead, the sharer needs to select the option for Include Original Post for that to appear.
While privacy settings can have an effect, your Facebook notifications can often tell you when someone shares a post so you can identify them easily. You can click that notification to go to the post or check your friend's Timeline to see it. Similarly, you can tell someone shared your post when you see it appear on your Timeline.
In other cases, you can manually locate the post on your Timeline and look for a link directly below the post content that mentions the number of shares the post has. For example, when one person shares your post, this link says 1 Share and appears beside the number of likes and other reactions. If you don't see any link like that, then nobody has shared that particular post.
On the Facebook website, you can click that link to bring up a list of the shared posts immediately. If you're on the Facebook app, you tap that link to display your post in a new window and then look for another share link below the reactions count to bring up the list. The sharing activity list shows the names of people who shared the post along with any additional text added, reactions, comments and shares on their end.
You may sometimes notice that Facebook says that several people shared your post, but you only see a few shared posts on the list. The site warns that this happens due to the privacy settings of the people who shared. For example, your friend may have shared the post to a narrow audience on their Timeline or to a private group. Unless you go around asking your Facebook friends who shared the post, then you probably won't be able to tell in this kind of situation.
Adjusting Your Post Sharing Settings
Controlling who can share your posts is as easy as adjusting your general Facebook privacy settings or editing them for a specific post.
To update sitewide settings, access your account settings through the drop-down menu on Facebook's website or through the hamburger menu on the Facebook app. Once you get into your settings, look for the Privacy or Privacy Settings option where you can locate settings for who sees future posts and the option to limit the audience of past posts. You can go into the Timeline and Tagging settings to keep others from putting your posts in their Facebook stories.
To target a specific post, select the audience icon if you're using the Facebook website or tap the icon with three dots on the Facebook app and select Edit Privacy. You can then limit the post's audience to friends you want to see and be able to share the post.