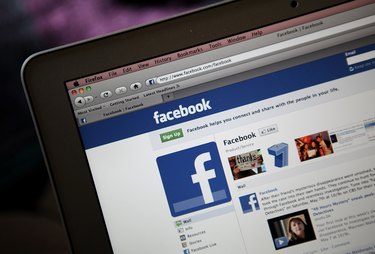 Facebook lets members "Friend" each other, giving them access to see each other's profiles and interact with one another on the site. Every Facebook user has a profile; on the left side of your profile page, adjacent to your Facebook wall, is a section called "Featured Friends" that showcases your friends based on relationships, family connections and those you interact with the most. If your friend has uploaded a profile picture, it will appear here.
Featured Friends
Facebook breaks your Featured Friends down into three different sections: Relationship, Family and Friends. "Relationship" is what Facebook uses to refer to your significant other; this can be a boyfriend, girlfriend, husband or wife. The person you specify as your Relationship -- if he or she is a Facebook user -- must confirm the connection in order to be displayed on your profile. "Family" can be used to tag everyone from your siblings to your parents to your aunts, uncles, cousins, nieces and nephews. These connections do not have to be confirmed by the related party, and unlike the Relationship section, you can list more than one family member. "Friends" refers to everybody else with whom you have made a connection on Facebook, whether they be colleagues, former classmates, neighbors or just people you met online.
Locating and Editing Your Featured Friends Section
Your Featured Friends section is located in a column on the left side of your Facebook profile page. By default, your Relationship -- if you specified one -- will be listed first. After that will come either your Family or your Friends, depending on your settings. To change these settings, mouse over the upper right-hand corner of either the Relationship, Family or Friend section on your profile until you see a little blue pencil. Click on this blue pencil to edit the Friends and Family section of your profile. Scroll to the bottom and you'll see the words "Family" and "Friends" next to the Featured Friends heading. Click on one of these sections and drag it above or below the other to change how it appears on your profile.
Display Method #1: Default Setting
Facebook uses a default method to automatically display your top friends on your Facebook profile. This method will always be in effect, even if you specify certain friends or friend lists to appear on your profile. This default method gauges your public interaction with your friends, for example, how often you comment on each others wall or pictures and whether you attended any of the same events registered on Facebook. The more you interact with a friend, the more likely they are to appear in this section. Facebook does not take private interactions -- such as messages sent between you and a friend -- into account in this method. However, Facebook doesn't simply list the friends with whom you interact most often; they also intersperse this section with other individuals on your friends list using a random selection. For this reason, the friends displayed on this list -- and the order in which they are displayed -- varies from visit to visit.
Display Method #2: User-Guided Setting
The second way Facebook determines who appears in your Featured Friends section -- and in what order -- depends on you, the user. While there is a spot in your profile to add and delete names from your Family and Relationship sections, there is also a way to feature specific friends or groups of friends on your profile as well. While you are on the editing screen of the Friends and Family section of your profile, scroll down to the bottom of the page until you see the links that read "Create new list" and "Add an existing list or group." By clicking on either one of these links, you can add people to a list to be displayed on the left-hand side of your profile. Just as with the default setting, Facebook changes up the order of these user-specified friends and friend lists based on your interactions on Facebook as well as by random selection, meaning the order of the friends displayed may be different every time you -- or your friends -- visit your profile.