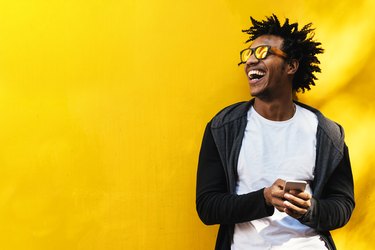 If you're trying to find someone's landline telephone number, you can try looking in an online phone book or even a physical printed phone book. Often, a landline number will be listed automatically where anyone can search for it. If you can't find it listed, you can also search a person's name or business name through search engines and social media. If you have the number, you can search for the name through similar tools.
Finding a Telephone Number
Traditionally, phone numbers for people and businesses were listed in printed telephone directories that were distributed to phone subscribers. These directories are still available online and in print, but in many cases, for privacy reasons, people may now avoid having their personal phone numbers listed.
You can search online phone directories through many free websites such as Whitepages and Zabasearch. Visit these sites and type the name of the person or business you want to use to search for a home phone number or business number. You may be asked to provide the city and state in order to narrow your search. If one such site doesn't include the information you want, try another, since each has its own database. Keep in mind that the listings you find can be out of date or simply incorrect, so don't be surprised if you call a number from such a site and find it's no longer valid.
Try checking a paper phone directory if you've received one from your local phone company. If you can't find one in your home or office, your local public library may have a current copy.
Using Other Search Tools
Even if a person or business isn't listed in a traditional paper or online phone directory, you may still be able to track down a useful phone number. Try searching for the person's name or the business name on traditional search engines such as Google or Bing. You may find a personal website or a business site or listing that includes a valid phone number.
You can also try searching for the person or business on social media sites such as Facebook or LinkedIn. Some people will include their phone numbers in their social media listings, and even when they don't, you can sometimes reach them through their social sites to communicate directly with them or to ask for a good contact phone number.
For local businesses in particular, you can also look for entries on business directories run by organizations such as Yelp, Foursquare and the Better Business Bureau that might contain phone information.
Many phone companies also provide directory assistance hotlines that can provide you with phone book listings, but there may be a charge for using these services. Check with your phone company to see how to reach them and whether charges are applied.
Using a Reverse Directory
A traditional phone directory or search site allows you to look up or input a name and find a phone number. Other directories, called reverse directories, let you provide a phone number and find out what person or business it's associated with.
Traditionally, these directories were printed on paper, but they're now available digitally as well. Whitepages and Zabasearch both enable you to input a phone number with area code and find out who it's associated with.
You can also search for phone numbers on social media and traditional search engines like Google or Bing to see if they're listed on profiles or various websites. Try formatting the phone number in various ways, such as separating the area code with parentheses and with hyphens, to make sure you find all the relevant search results.