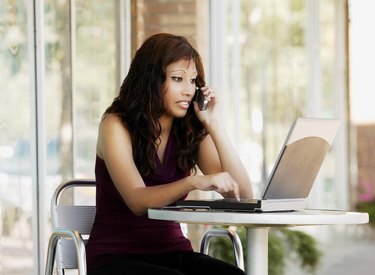 How to Find a Person's Phone Number Using LinkedIn. LinkedIn is one of the web's most popular networking sites. Create a network of people you know and allow others to see your network. When you want to get in touch with someone by phone and know he is a LinkedIn member, follow the steps below to find his phone number.
Step 1
Sign up for LinkedIn. Go to the website's homepage and find the Create Account option. It is free to create an account with this service. Just think of a screen name and password.
Step 2
Create a profile on the LinkedIn website. This allows you to tell people who you are and is the first step in creating a network. Fill in as much information as you would like. Many people include their contact information, work history and education.
Step 3
Search for the name of the person you want to contact. If he has a unique name, the first or last name may be all you need. But if he has a common name, you may need to know his middle initial or some other piece of information to locate the correct person.
Step 4
Scan the profile once you are certain you have located the proper person. Many profiles include personal contact information such as cell, home, and work phone numbers. If your person has chosen to do this, you are in luck. However, some people choose not to list their phone number for security reasons.
Step 5
Send a message to the person if his phone number is not listed. LinkedIn gives you the option of sending messages to other profile holders. Tell him who you are and why you want to call.