Whether you gave your phone a bath or ran over your tablet with the car, when it comes time for customer support on your Sony mobile device, you'll need to know the model number. Sony markets all its modern tablets and smartphones under the Xperia brand, and all Xperia devices have their model number accessible within the operating system environment and printed on the devices. You can also find the model number listed in the owner's manual. If you still have the original packaging, look for the white sticker on the box.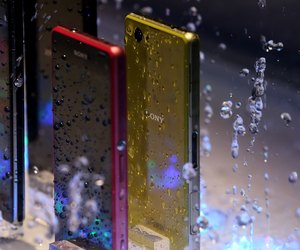 credit: Justin Sullivan/Getty Images News/Getty Images
Places to Find an Xperia Model Number
Sony's Xperia devices run on the Android operating system. You can find the model number on any of these devices by pressing "Settings," then "About Phone" and "Model Number."
Alternatively, you can find the model number physically printed on the device. For an Xperia tablet, look on the back for the Sony logo. Next to it is a variety of information; the model series is at the top and the specific model number is below the Sony Corporation line. For an Xperia smartphone, remove the back cover and remove the battery. Behind the battery, look for a sticker with the Sony logo. The model number is there.