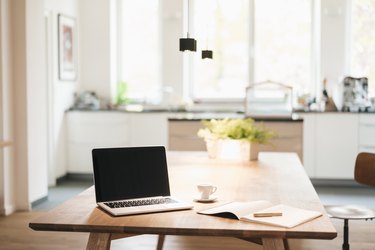 Your Dell computer comes with a Service Tag, also known as the Serial Number. Keeping track of this number is useful because it can help you to get warranty service for your computer if it breaks down. There are a few different ways to obtain your Dell computer's serial number.
Your Serial Number on Windows
Dell is one of many manufacturers who allow users to find the serial number for their Windows computer on the Windows operating system itself. This method works as long as your Dell computer is still properly loading the Windows OS. Find the Dell computer serial number by clicking the "Start" button and typing in Command Prompt. Right-click "Command Prompt" and then click "Run as Administrator." In the Command Prompt window, type the following: wmic bios get serialnumber. Hit the "Enter" key. The serial number for your Dell computer will be displayed on screen.
Your Dell Laptop Serial Number
If your Dell laptop won't power on, then you won't be able to use the Command Prompt method to find your Dell laptop serial number. Instead, you'll need to find the serial number on the outside of the laptop. Where to find this number will depend on the type of Dell laptop you have. If you have a Dell XPS laptop, you'll need to look at the bottom of the laptop and flip open the middle cover to see the model number and serial number. Other Dell laptops typically have the number on a label on the bottom of the computer, usually toward the middle. Older Dell laptop models may have the serial number under the removable laptop battery on the bottom of the laptop.
Your Dell Computer Serial Number
You can find the Dell desktop computer serial number by looking for the label on the top, back or side of your computer tower. If your Dell computer is an all-in-one, then you can find the serial number on the lower back side of the all-in-one or on the all-in-one stand. The label also typically contains your computer's original Windows product key.
Register Your Serial Number
Knowing the serial number for your Dell computer is important since you can't register your computer with Dell without it. Register your Dell computer to get technical support and to take advantage of your computer's warranty. You can register your Dell computer serial number by going to Dell's product registration site and typing in the serial number. Select the country where you purchased your Dell and then click "Next." Fill out the form with your name, mailing address and email address. Click "Next" and then click "Register" to register your computer.