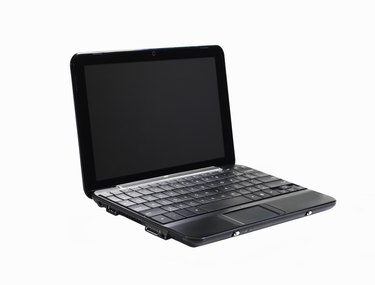 It is easy to gather information about your Dell laptop on the manufacturer's website. One detail that you might want to know, especially if you purchased your computer second hand, is the date that the computer was made. You can do so in just a few steps on the Dell website. Keep in mind that the "Ship Date" is considered the same as the manufacture date for all intents and purposes—that is the day the computer was finally finished and ready for shipping to the retailer.
Step 1
Close your Dell laptop and flip it upside down. Look for the service tag, which is a combination of letters and numbers (usually about five to seven digits long). This is the number that identifies your unit when you call into Dell for servicing and warranty coverage.
Step 2
Visit support.dell.com, Dell Corporation's support website. Choose the option for "Home Users," "Small Businesses," or "Entreprise IT Professionals."
Step 3
Click "Warranty Status." Type in your service tag and then hit "Go." You will see all of the information regarding your laptop, including the ship date (manufacture date—month, day, and year), type of laptop, and warranty information listed on screen.
Tip
Click the "Original System Configuration" tab—this will show you all of the original parts that were used to manufacture the system. The "Current System Configuration" tab will show you the hardware components that are installed on your computer right now.
If you can't find your service tag on the bottom of your laptop, click "Ownership Transfers" on the support.dell.com website (replaces step three above). Then select "Find My Service Tag." The website will scan your computer for the number. You must have Internet Explorer 5.5 or later to use this tool.
Warning
A laptop that was pieced together by someone and sold to you that just happens to have a "Dell" name on the shell may not have a service tag number attached because it is not considered a genuine Dell computer.