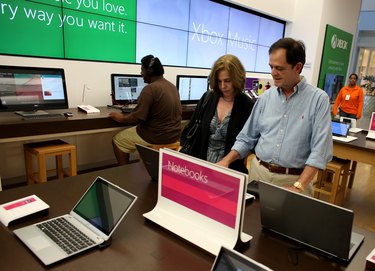 Knowing a computer's specs is essential during the purchase process to ensure you buy the right device or the correct hardware and software when it comes time to make upgrades. Take advantage of the System Information screen on your Windows 8.1 computer to find your system specs.
Locating Your System Specifications
Press "Windows-I" while on the Start screen to load the Settings pane. Click "Tiles" to load your computer's Tiles settings and then toggle the switch under the Show Administrative Tools heading to the On position to reveal the System Information tile. Click the "System Information" tile to load the System Information screen. On this screen, you can view details about your processor, memory, hard drive and operating system. Click the headings in the left pane to view more detailed specifications about hardware components, resources and software.
Determining Which Version of Windows 8.1 You're Running
If you only want to know which version of Windows 8.1 you're running, you'll find this information on the PC Info screen. Click the "Desktop" tile on the Start screen, press "Windows-I" and select "PC Info." The version of Windows 8.1 you're running displays next to the System Type heading.