If you delete an email in your email program, it will go into your email program's trash can. You can find emails once they are in the trash can using several different features. Almost all email programs leave emails in the trash for a period of time. If they have been deleted from the trash can, you might find a copy on your computer, or you might not be able to find them.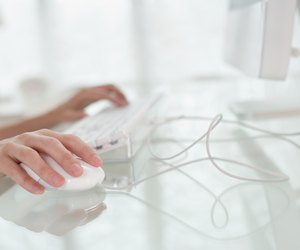 credit: Jupiterimages/Photos.com/Getty Images
Step
Go into the trash can or deleted folder in your email program. Usually you can find this on the left hand side, near where you access your inbox or sent folder.
Step
Use your email's search feature, if you have one, to search through the trash can emails by date, sender, or subject, until you find the one you are looking for.
Step
Use the "find" feature in your operating system, usually by pressing Control and F, to open up a small search box which will search on that page for a name, date, subject, or particular word or phrase. This will help you locate emails if your email program does not have a search feature for the trash can.