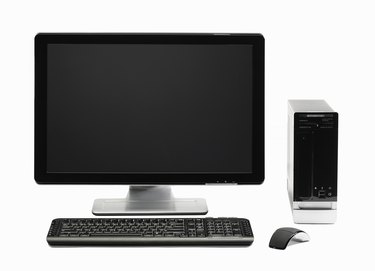 Gmail is a free email service provided to personal computer (PC) users by Google. Since Gmail supports both the Internet Message Access Protocol (IMAP) and the Post Office Protocol 3 (POP3), Gmail users can use their account on several platforms which support these technologies. In fact, Gmail users wanting to use their Gmail account on their PC without necessarily using the Gmail Web-based platform can do so by using an email program. One email program Gmail users can use on their PC to access their Gmail account is Microsoft Outlook 2007.
Step 1
Log in to your Gmail account, select "Settings," click on the "Forwarding and POP/IMAP" tab, choose "Enable POP for all mail," and then click on the "Save settings" button. The "Enable POP for all mail" allows you to download all your Gmail messages to your computer once you configure your Gmail with Outlook 2007.
Select the "Enable POP for mail that arrives from now on" if you want Gmail to download only messages from the date your configured Gmail with your email program.
Step 2
Open Outlook 2007, select "Tools," "Account Settings," and then click on "New" under the email tab. According to Gmail, "if you are prompted to, Choose E-mail Service, select Microsoft Exchange, POP3, IMAP, or HTTP, and click Next (see references 1)."
Step 3
Enter your name, Gmail address, and password in the "Your Name," "Email Address," "Password," and "Retype Password" fields respectively. Be sure to select the "Next" button after providing your Gmail credentials. Outlook 2007 will automatically configure your Gmail account to work in Outlook 2007.
Step 4
Select the "Finish" button upon completion of the configuration process by Outlook 2007. You can now receive and send emails in Outlook 2007 on your PC without needing to sign in to the Gmail Web-based platform.