The Internet provides many resources for finding old newspaper articles. You can search through newspapers from all over the world with Google News Archive Search, but only for specific time periods. The Library of Congress and the National Endowment for the Humanities teamed up to create the site Chronicling America, which provides two free searchable databases of digitized newspapers.
Google News Archive Search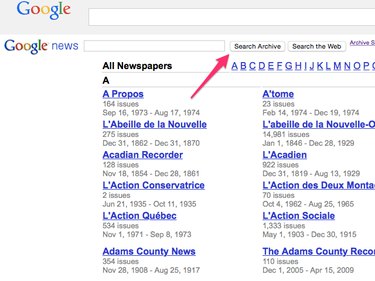 The Google News Archive contains newspaper articles from hundreds of newspapers, limited by the date ranges listed beneath each newspaper. Just type the keyword or words you are looking for into the Google News search bar, and then click on Search Archive. You can also click on one of the newspaper titles listed beneath the search bar to search through only that newspaper's specific archive.
Search America's Newspaper Articles From 1836 Through 1922
If the specific article you are looking for is from 1836 through 1922, then you are in luck. Chronicling America contains digitized articles from this specific time period. The database is easy to search, and the articles have been digitized at such a high quality you can zoom in and explore in great detail these historic newspapers.
Step 1: Go to Chronicling America
Using your Internet browser, navigate to the Chronicling America home page. In the middle of the page, there is a search bar that allows you to do a default search or an advanced search of the database. The default search has menus that narrow the search by U.S. state and by year.
Step 2: Use the Advanced Search
By clicking on the Advanced Search tab, you can better narrow your search and receive more precise results. Aside from choosing specific states, newspapers or year ranges, you can also search for specific words or phrases much like you would in an advanced Google search.
Search the U.S. Newspaper Directory From 1690 to the Present
If the article you are looking for is not within the time period from 1836 through 1922, then you can try using Chronicling America's U.S. Newspaper Directory. This directory lets you search not by the content of articles but rather by newspaper titles. As such, this directory is only useful if you know which newspaper has the article you are looking for. After you find the newspaper you are looking for, the directory provides information about which libraries contain the physical microfiche records for that particular newspaper.
Other Resources
If you cannot find the article you are looking for by using these three resources, then you might need to use a site that requires an academic, corporate or personal subscription. The Library of Congress Newspaper and Current Periodical Reading Room keeps a list of newspaper archives that are free and by subscription only. If that site doesn't have what you're looking for, try the tried and true method of asking your local librarian for help.