To read newspapers online for free, search for newspaper websites and online archives of newspapers.
Searching for Specific Newspaper Websites
Step 1: Search by Name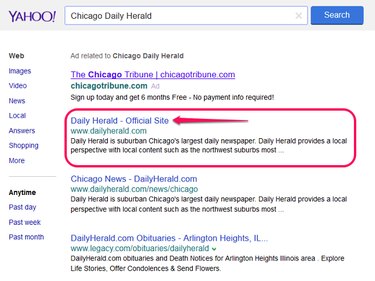 To search for a specific local, national or international newspaper, type the name of the newspaper into a search engine and click Search. Select the newspaper website from the list.
Step 2: Choose a Section
Newspaper websites offer equivalent sections to the printed counterpart. To browse a section, click the desired section from the menu bar.
Step 3: Choose a Topic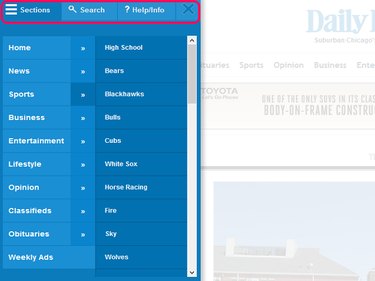 Just like sections in a printed newspaper, the online sections offer topics within each section. From the expanded section menu, choose the topic you'd like to read.
Step 4: Search for a Story
Alternately, search for a specific story by using the magnifying glass icon. Some websites have a search box near the section menu. Enter a search term in the box and press Enter or Search. Other websites have a magnifying glass icon that opens a search feature. Click the magnifying glass icon and then follow the directions to enter your search criteria.
Searching for Newspaper Archive Websites
Newspaper archive websites provide links to many newspaper websites. With archive websites, you can refine your search by grouping newspapers into regions and topics. Some archive websites offer newspaper availability details such as dates and information as to whether texts are full or partial sections of the newspapers.
Websites that are free to use include the Library of Congress Archives and Free Newspaper Archives. Local libraries also offer online resources to view archived newspapers. Contact your local library or visit the library website to search for resources.
Viewing Subscription Websites
Genealogy websites and some newspaper archive websites require subscriptions, but many offer a free trial. Free trial times vary from a few days to a month.
Websites that contain searchable newspaper archives include:
To create an account, find and click the free trial button. In this example, Newspapers.com offers a seven-day free trial.
Enter your email address in both email address fields. Choose and enter a password in both password fields. Alternately, click Sign into Facebook. Click Continue. In the next step, enter your credit or debit card information, check the box to agree to the terms of service and then click Start Free Trial.