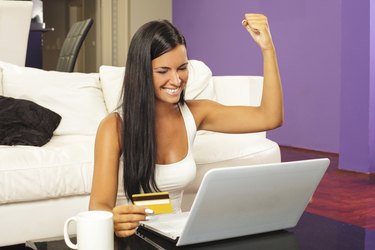 Whether you're seeking a potty-side putting green, an electromagnetic UFO detection kit or a can of unicorn meat, you're sure to find it among the nearly unlimited catalog of products on Amazon. In addition to the multitude of items sold and fulfilled by the retailer itself, countless others are offered by more than two million third-party sellers. Locate these individual merchants much the same way you'd look for any item on the site -- by using the Amazon's search feature. Otherwise, browse the department under which the merchant's products are sold and find the seller's name along the left sidebar.
Searching for a Seller
Amazon's comprehensive search engine -- located at the top of every Amazon.com page -- is designed to narrow your hunt using a variety of general queries, including brands, colors and merchant names. If your desired merchant is a featured seller, the company logo is displayed at the top of the search results and can be clicked to enter the brand's storefront. Otherwise, select one of listed products and then click the seller's name within that product's listing to be redirected to the merchant's page.
Browsing Departments for a Seller
If you can't recall the exact name, Amazon also provides an alphabetical list of sellers in each department, making it possible to locate specific merchants with just a general idea of the merchant's name. To navigate to this list, click "Shop by Department" at the top left of any page and select a category. If possible, narrow your query even further -- for example, dive into the "Guitars" category after navigating to the "Instruments" department. From there, simply click "See More" under the "Seller" heading in the left sidebar.