In addition to being the main account interface, the My eBay section of eBay's website is where you go to check your sales and purchase history. Checking your history can be important for your personal recordkeeping, especially if you run an eBay store as a business. You can also check previously sold or completed listings, even if they aren't your own sales or purchases.
Searching Completed Listings
Using the advanced search, you can peruse completed transactions or sold listings. Checking these sales can be a good way to estimate roughly how much you'll spend buying a particular item or how much an item tends to go for if you're selling one.
Step 1
Click Advanced by the Search button at the top of the eBay page.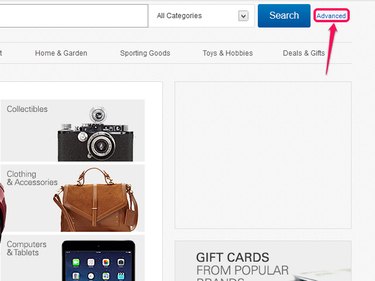 Step 2
Type the name of the item you're searching for in the Search field under Enter keywords or item number, then select the Completed listings check box for completed transactions or the Sold listings check box for listings that have already sold.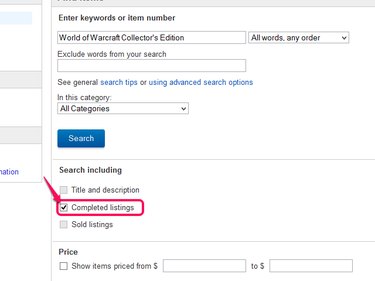 Step 3
Click Search to bring up a list of completed transactions or sold items.
Finding Your Purchase History
Records of all of your purchases in the last three years are maintained by eBay in the My eBay section of the website. By default, all of your purchases within the last 60 days are shown, with purchases from earlier than that available for viewing by filtering by year. As of publication, eBay doesn't offer purchase history for any purchases made earlier than the last three years.
Step 1
Hover your mouse over the My eBay button and select Purchase History from the menu.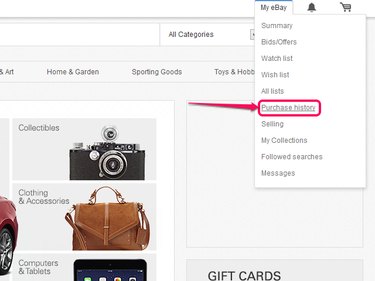 Step 2
Use the See orders from drop-down to select a time period to view.
Step 3
Click the Orders per page options at the bottom of the Purchase History box to change how many orders are shown per page.
Finding Your Sold Listings
Records of your sales are also stored in the My eBay section. This record includes items currently for sale, recently sold items, items scheduled for sale, items returned by customers and unsold merchandise. Each heading can be set to filter based on date or in the case of current sales, by listing format. As of publication, sales records only extend to the last 18 months.
Step 1
Hover your mouse over the My eBay button and select Selling from the menu.
Step 2
Check the appropriate section for the type of sales history you're looking for. For example, Sold for completed sales.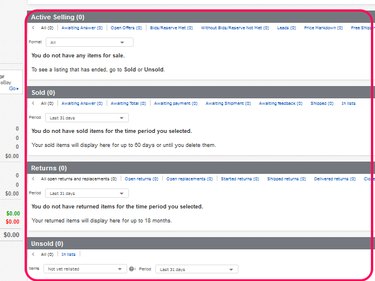 Step 3
Use the Period drop-down to show history within a specific time period.