Amazon doesn't have a search tool that allows you to search by a specific price, however it does have a couple of features you can use to refine a search to find a cost within your budget. For example, you can sort products by lowest or highest cost, or refine your search by price range. You can also dig deeper into product pages to find alternative sellers and a sorted list of their prices.
Sort a Search in Price Order
Type the name of the product in the Amazon search bar. Go to the Sort By box above the search results. If you don't see this box, use the Choose a Department to Sort dropdown menu to refine your search; the box should appear after you've chosen a department. Select Price: Low to High or Price: High to Low to sort your search by cost.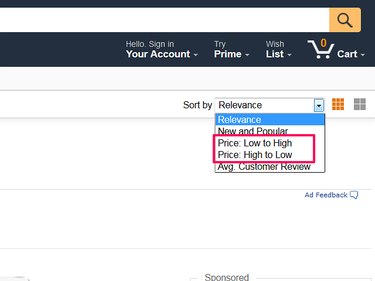 Refine a Search by Price Range
If you have a specific budget, you can limit your search results to a specific price range. Go to the Refine By options to the left of your search results and scroll down to Price. You can choose one of Amazon's default ranges or use your own prices. If you use a default, you see the number of products in your search that are in that range in parentheses. Select a default to filter the search or type prices in the range boxes and select Go.
Note that Amazon sets price ranges by product. If you're looking at low cost products, ranges typically start lower and may have more options. More expensive products typically have fewer default ranges.
Find Prices From a Product Page
You can also use a search feature in product pages to find a list of alternative sellers and their prices. Open the product's page and look in the description area for New or Used links. Some products may also have a Refurbished option.
Select one of the links to go to its More Buying Options page. This page contains a list of alternative sellers and prices, sorted by price and shipping costs.
You can't refine the results on this page, however you can set them to show only products with free shipping. To view a product from the list, you must select the seller's name and find the product on his account page.