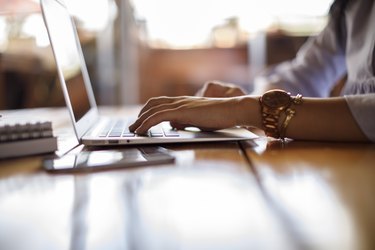 Although many individuals use eBay on a casual basis to find items for purchase, this particular platform has nurtured the growth of a variety of internet-based businesses. Buying and selling items on eBay has become "big business" for many, which is why it is so essential that users have access to the complete metrics surrounding their purchase history. Using a series of simple steps, eBay account holders can access their complete eBay purchase history.
Exploring eBay Purchasing Basics
In order to buy and sell items on eBay, individuals must first register with the online platform and create an account. Your eBay account holds a variety of information about you, ranging from preferred shipping addresses to credit card information and more.
As you continue to buy and sell items through eBay, other users will have the opportunity to provide feedback on your activity. This helps provide a valuable degree of transparency and works to reduce the likelihood that either the buyer or seller will fall victim to a scam.
After creating your eBay account, you will have the option to explore and modify all of this previously mentioned information through the platform. Once you begin to buy and sell items on eBay, each of your transactions will be recorded and logged within your account.
This information is not a matter of public record, but instead remains accessible only to you and the other individual involved in the exchange. Regardless of whether you have been buying and selling items on eBay for years or only a few weeks, all of your transactions will appear within this account interface.
Locating Your eBay Order History
In order to review your order history, you will first need to log in to your eBay account. To do this, navigate to the top right corner of eBay's homepage and click on the "My eBay" button. At this point, you will be given the option to log in to your account using a variety of methods, ranging from the traditional user name/password to Facebook and Google.
Keep in mind that if you have been buying items as a guest, you will not have access to an order history. With that in mind, this may be the perfect time to register for an account with eBay. Once you have logged in, you will need to navigate to the "Purchase History" menu tab. From here, you should not only be presented with your complete order history, but you should also be able to initiate an order history search if you so desire.
Important Considerations Regarding Order History
As long as you have had an account on eBay, your order history will be tracked and registered. This will include all purchases and sales you have been a part of. Although it is impossible to delete this information from eBay's system, you can choose to hide purchases that are more than 60 days old from your account profile. This could be particularly useful if you are sharing an account with another individual and wish to preserve a degree of privacy or simply wish to declutter your account.
In order to hide an item, simply select it in the list and click on the "More actions" tab from the dropdown menu. From here, you can click on the "Hide item" button to remove it from your list of visible transactions. You can always undo this process by pressing the "Undo" button if needed.