Whether you buy or sell on eBay, sometimes you need to know your buying history. For example, you might want to look up all the items you bought in the past, to ensure that no one accessed your account. Sellers who are interested in what buyers previously bought, also have the option of viewing a person's bidding history. To find total buying history on eBay, you must check both your eBay account and Paypal account.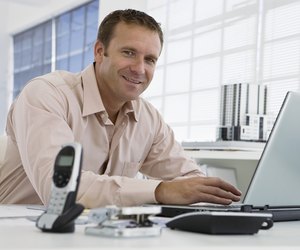 credit: Jupiterimages/Pixland/Getty Images
Step
Log-in to your eBay account and select the Advanced Search feature from the top of the screen. A regular search lets you only look at currently listed items and completed auctions, but the Advanced Search lets you look up information relating to a buyer or seller.
Step
Enter the user ID in the search box and select information for completed auctions. The search also lets you look at all completed auctions, including auctions the user bid on, but didn't win. Press "Enter" and you will see a separate page with the information entered.
Step
"Visit the "My eBay" page if you need your buying history and select the "Won" option under "Buy." Then select your information using the drop-down menu. EBay only lets you look at your bidding history from the last 60 days, but it also lets you search by the last week, current month or last month.
Step
Check Paypal if you want information about purchases made longer than 60 days ago. Paypal keeps a permanent record of all transactions relating to your account and lets you search for a specific period of time and limit your search to only purchases made.
Step
Select History from the Paypal menu, opt for payments sent and enter your information. Choose the dates you want, but if you want a total buying history, leave the starting date open ended. This shows you all purchases you made through eBay using Paypal and your total buying history.