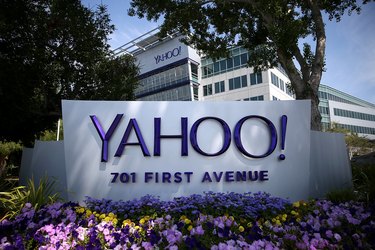 Unless you have someone's Yahoo ID or email address on hand, tracking him down on Yahoo Messenger probably will take a while. Yahoo Messenger features a shared service Yahoo account, so anyone who wants to use the service needs to sign up for an account through Yahoo. You will not be able to find people on Yahoo Messenger if they do not have a Yahoo account. However, you can chat with people using Windows Live Messenger, Reuters Messaging and Lotus Sametime over Yahoo messenger.
Finding People on Yahoo
The Yahoo Messenger program features an "Import Contacts" feature located on the "Contacts" drop-down menu that lets you scan your Yahoo and third-party (such as Gmail, Windows Live Mail and Microsoft Outlook) email account contacts for association with Yahoo Messenger accounts. Additionally, you can go through the Yahoo Messenger site's "Add more friends" page to import existing contacts and invite new ones to join the service (see Resources). It's probably a long shot, but you may be able to find people over Yahoo's "Profile" and "People" searches (see Resources). These search tools pool information from other service profiles, so if you can't find the person on Yahoo, you might be able to find her on another service. To complicate matters, Yahoo recommends using your first and last initial for your public profile, which can make name-based searching next to impossible except for people with unique first names.