Most people cannot navigate the Internet without leaving some trace of themselves online. When you need to find someone on the Internet for free, you can possibly use that trace to locate her. Online sites such as Facebook and MySpace that require a person to register and verify personal information can come in handy in a search. Even if you only have a person's name and date of birth, you stand a good chance of finding her.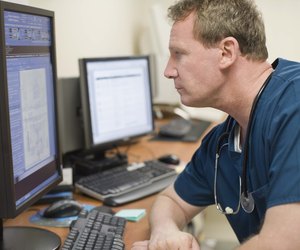 credit: Jupiterimages/Creatas/Getty Images
Step
Search social networking sites such as Facebook, MySpace and BlackPlanet for the person. Enter the person's name in the search field. If you are searching for a female and have her maiden name, search with it as well. You can narrow your search results by businesses where the person previously worked, home towns, high schools and colleges. You can also search for any relatives of the person you seek. Search the relative's friends list to see if the person is on it. You can also message the relative to inquire about the person's whereabouts.
Step
Perform an online search for the person by name. Sites such as Google, Bing and Yahoo Search scour the Internet for mentions of a person's name when you enter it. The search results appear in order of most relevancy to your query.
Step
Search online directories such as White Pages, SuperPages and 411 for the person. The directories sometimes include directory information for a person who is not listed in your local phone book. Some people opt to list their directory information including cell phone numbers with these companies by registering for online accounts with them.
Step
Search the county's public records in which the person last lived. Some counties post limited public records including marriage licenses, criminal records and court filings for free online. Information such as the person's address is sometimes available through these records as well.