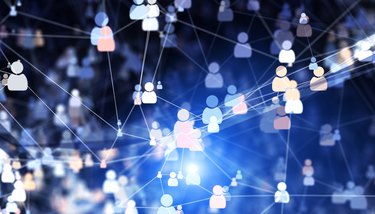 There was a time, in a internet galaxy far, far away, when MySpace considered buying Facebook, but reportedly passed on the $75 million asking price – a price tag that would've been a steal, with Facebook valued at well over $500 billion in 2019. But MySpace, originally launched in 2003, was the biggest social networking site in the world from 2005 to 2008 (in 2006, it was visited even more than Google itself). Nine or so iPhone iterations later, MySpace still exists, and you can totally search it, whether you want to take a digital trip down memory lane or just discover some new music the way you used to in high school.
The MySpace Basics
In its heyday, MySpace was a social networking site with highly customizable user pages. In addition to the basics like photos, friends lists and biographical info, users could customize background graphics and even embed plenty of music tracks onto their pages. This focus on tunes made MySpace a hotbed for indie musicians, launching careers of bands like the Arctic Monkeys. Unfortunately, MySpace last made headlines in 2019 when it lost every single music track uploaded to the site between 2003 and 2015 – more than 50 million songs.
The modern MySpace is more of a landing pad for entertainment news, listicles and the occasional exclusive trailer or single, focusing on music but encompassing movies, TV and more. As a music and culture site, MySpace divides its profile pages into categories such as:
Fan
Musician
Venue
Actor
Artist
Promoter
Brand
DJ/Producer
Blogger
Filmmaker
Designer
The pages feature photos, portfolios, connections and music mixes. No matter what type of page you're searching, though, the MySpace search process is fairly consistent and very straightforward.
MySpace Search Options
To find any type of MySpace profile, just visit MySpace.com and go to the search bar on the homepage. As of 2019, you'll find it under a header that says "Connect With People." From here, you've got two options:
Perform a basic search by typing in the full name of the person or artist you're seeking in the blank field that says "Enter a Name or Artist..." and then hitting the blue "Search" button.
Perform a more advanced search by choosing the profile type (fan, musician, comedian, dancer, etc.), music genre and gender from the respective drop-down menus before hitting the Search button. You can specify just one or two of those parameters if you want.
In either case, once you enter the info and press "Search," you'll be given a list of pages that most closely match your search terms. You don't have to worry about a different search process between the desktop version of MySpace and the mobile app, either, since MySpace has discontinued support for its Android and iOS apps. MySpace on mobile boils down to visiting the site on your smart phone's browser.
More MySpace Discovery Features
Positioning itself as an online artists' showcase, MySpace also sports a few different ways to discover new music and artists. At the bottom of the page when you first visit MySpace.com, you'll find a music tool bar, which acts as a compact, browser-based music player. Simply click the bar and type in the name of an artist, song or album to perform a music search. You'll be able to pick content from results in different categories, like songs, videos, artists, albums and mixes (the MySpace term for playlists). You can also perform a quick music search by clicking "Search" on the site's sidebar, right above "Discover."
Speaking of "Discover," that part of the sidebar offers another way to – wait for it – discover stuff on MySpace. If you want to search out new content in a more exploratory fashion, click "Featured," "Music," "Videos" or "People." In the latter three categories, you can either enter specific search terms or just browse genres and playlists.
The "People" category, in particular, does offer some more specific search tools if you're after a personal profile. In addition to Profile Type, gender and musical genre, you can narrow the search by city or ZIP code and age when performing a People search.