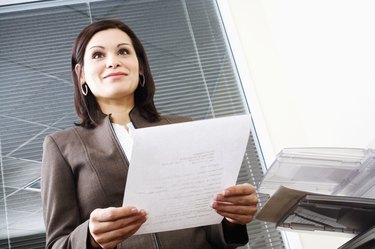 The Canon Pixma range of printers are color inkjet printers with a variety of printing modes, such as photo, transparency, CD/DVD printing and plain color. The printer interfaces with your PC or Mac computer to provide information on ink and paper levels and internal errors. One error that can be hard to fix is the U150 error, which can only result from an unauthorized chip in the printer's replaceable ink cartridge. Canon Pixma printers are programmed to display this error whenever a non-Canon ink cartridge is inserted, so as to safeguard against low-quality cartridges damaging the printer.
Step 1
Cancel all pending print jobs on your computer. Turn off the printer and open the door to the ink trays, usually located on the top of the printer above the paper tray.
Step 2
Remove your non-Canon ink cartridge(s) from the printer, pushing down on the cartridge to pop it out of place then lifting it out of the printer.
Step 3
Peel the protective seal off a set of official Canon Pixma ink cartridges and push them one by one into the cartridge bays, pushing until they click into place.
Step 4
Push the cartridge door securely closed and turn the printer on. The printer will self-diagnose the new cartridges and the error message will be removed.