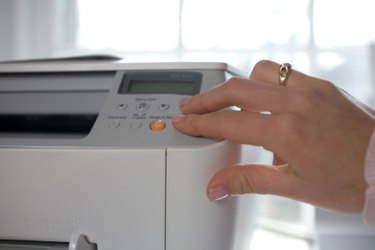 Sometimes when using Hewlett-Packard cartridges the ink indicator icon will show a low level although there is plenty of ink in the cartridges. Incorrect ink level status generally occurs when ink cartridges are refilled. Most HP printers store the serial number of cartridges in the printer's internal memory . When the same cartridge is refilled, the printer does not recognize it as a refilled cartridge. Fortunately, there is a simple solution to this problem.
Step 1
Locate and take out both the black and the color ink HP cartridges from your printer.
Step 2
Press the "On" button on your printer to turn it on, wait 20 seconds, then turn it off. Allow the printer to completely turn off. Repeat this step five times so that the HP cartridge identification information will be erased from the printer's memory. HP printers normally store the identification information of the last five ink cartridges that were used.
Step 3
Replace the black and the color HP cartridges inside the printer. Print a test page to ensure the cartridge level system is reset and the machine is printing correctly.