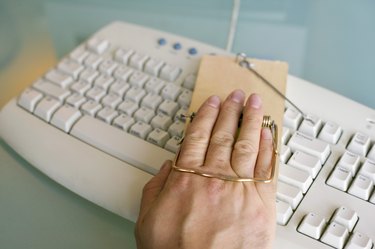 Floating, or drifting, cursors are a common problem with computers, particularly laptop computers, which are built with a touchpad. Whether your cursor is drifting from line to line while you type or floating in the opposite direction than the one in which you're pointing, cursor problems can be addressed with a bit of troubleshooting.
Step 1
Check your mouse for dirt or debris if using a hardwired mouse. To check for debris, flip the mouse over and twist the casing around the ball. It should twist free, allowing you to remove it. Check the mouse cover and area surrounding the mouse compartment for bits of dust that may be keeping the ball from rolling freely.
Step 2
Determine if a recent update is causing your mouse to drift on a laptop computer. Click on the "Start" menu and open the "Control Panel." Click on "System and Maintenance" and then on "Backup and Restore Center." Select a restore point and reinstall updates one by one to determine which update is causing your cursor problem.
Step 3
Unplug your mouse if using a hardwired one and ensure that your USB port is free of debris. Plug the mouse back in and check if the problem is solved.
Step 4
Update your device driver by right-clicking "My Computer," then clicking "Properties" and then clicking the "Hardware" tab. Click "Device Manager." Find your mouse driver and right-click it, then select "Update Driver Software."