Garmin GPS devices come with touch screens (where you select a function by touching the appropriate icon with your finger) for easy use. If your Garmin GPS touch screen does not respond properly to your touch or stops responding altogether, you can follow Garmin's troubleshooting steps to fix your GPS screen.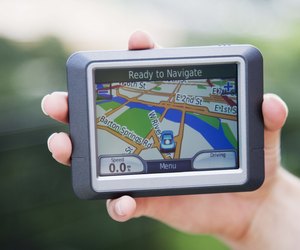 credit: Jupiterimages/Creatas/Getty Images
Screen Not Responding Properly
Step
Select "Settings" from the Menu Page. The "Settings" tab may show a wrench icon to the right of the main screen or at the bottom of the main screen depending on the model of your Garmin GPS.
Step
Touch "Display" from the Settings menu.
Step
Click "Touch Screen" from the Display menu and hit "Recalibrate."
Step
Follow the prompts to realign your touch screen so it responds correctly to your touch.
Screen Not Functioning
Step
Disconnect your Garmin GPS from an external power and turn it off. External power can come from your car, computer, or wall charger.
Step
Flip up your GPS antenna if there is one. Some Garmin devices come with an antenna that folds down for storage.
Step
Press the "Reset" button on the back of your GPS unit. If your Garmin device has an antenna, the "Reset" button is generally underneath the location where the antenna folds.
Step
Reconnect your Garmin GPS device to a power source using the car, computer, or wall charger. The GPS should automatically turn on and operate normally.
Step
Contact Garmin Support if resetting your Garmin device does not fix the screen.