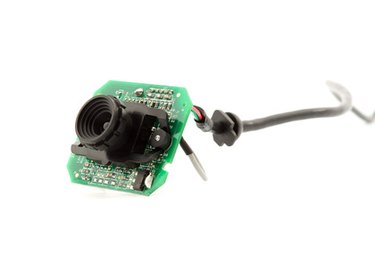 Many new laptops have a small, integrated webcam installed on the top of the screen. As long as the software is installed, you can use the webcam to communicate with other webcam users. Webcams are useful for business meetings or just to chat with family and friends. If you consistently get an error message or cannot get your integrated webcam to connect, you will have to fix the software, which is the most common issue with defunct laptop webcams. There are two commonly used remedies that you can attempt.
Update the Driver
Step 1
Update the following programs or load them onto your laptop: Java, Quicktime, DirectX and Flash. If any of these programs are out of date on your laptop, your webcam may fail to start.
Step 2
Go to "Start > Control Panel > System and Maintenance > Device Manager." The device manager lets you check to see if there are any problems with certain drivers.
Step 3
Look at the list of devices and find your webcam. It may be listed under "Other Devices." Press the box next to it to expand the information. Check to see if there is a yellow exclamation point next to it. This indicates a problem with the driver.
Step 4
Right-click on your webcam's name and choose "Update Driver Software." Let the computer search the Internet for a new driver.
Reinstall the Software
Step 1
Go to "Start > Control Panel > Add/Remove Programs."
Step 2
Look through the list of programs for your webcam.
Step 3
Hit "Uninstall" to remove the software.
Step 4
Navigate to the website where you can download the webcam software. You may need to consult your laptop's manual to find the name of the integrated webcam.
Step 5
Install the software and try to use your webcam.