A software program you are trying to run will display the error message "Run Time error 53 File not found" if the program is attempting to use a dynamic link library, or DLL, file that has been deleted or was never installed properly. In order to continue using the software program without receiving the error message, you will need to delete the program from your computer and then re-install it so that the required DLL file is restored.
Step 1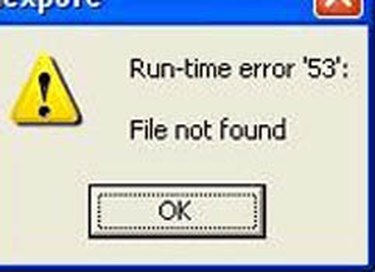 Open the computer's "Start" menu by clicking on the Windows button located on the desktop's bottom tool bar. Navigate to the "Control Panel" button in the Start menu and click on it.
Step 2

Scroll down through the various Control Panel icons and locate the icon of a CD next to an open box named "Programs and Features." Double-click on the icon to bring up a new window that will populate a list of all of the programs installed on your computer's hard drive.
Step 3
Click on the "Publisher" button at the top of the new window to arrange all of the programs in the list by their software designer. Scroll down through the list of programs installed on your machine and locate the one that originally gave you the run time 53 error message. Click on the name of the program and then click on the "Uninstall" button at the top of the Programs and Features window.
Step 4
Follow the instructions that will appear on the screen to run the uninstall utility. Wait for a window to pop up notifying you that the program has been uninstalled from your computer. Insert the program's installation disc into your computer's CD or DVD drive or instead open a web browser and download the installation file from the program's official website.
Step 5
Open the installation file that is either located on the installation disk or in your computer's downloaded files folder. Click on the "Next" button and then click on the radio button labeled as "I Agree to the Terms and Conditions." Click on the "Next" button again and then click on "Install" to re-install the program. Open the program to make sure you are not still receiving the run time 53 error message.