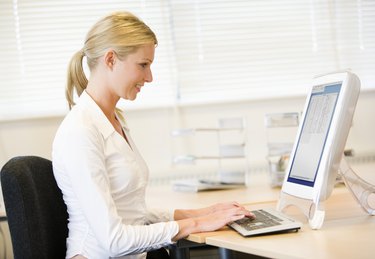 Quickbooks is a computer program designed to allow users to keep detailed records of all of their finances and business records. Periodically, the software developer will release updates for Quickbooks, adding new features and fixing bugs and issues with the previous version. While there is no way to remove these updates automatically, you can manually remove them by uninstalling and reinstalling the software.
Step 1
Click on the "Start" menu to open the "Control Panel." If you're using a newer version of Windows, the "Control Panel" icon will be immediately present. If you're using an old version of Windows, you'll have to click on "Settings" to find the "Control Panel" icon.
Step 2
Double click on either the "Add or Remove Programs" or "Programs and Features" icon, depending on your version of the Windows operating system.
Step 3
Highlight "Quickbooks" from the list of programs installed on your machine. Click the "Remove" button to completely uninstall Quickbooks, and any updates you've downloaded, from your computer.
Step 4
Place your Quickbooks installation CD in your computer's CD or DVD drive. An installation utility will automatically launch. Click "Next" to proceed through the installation utility and reinstall Quickbooks on your computer. This will install only the original version of the program, and not the program updates that weren't to your liking.