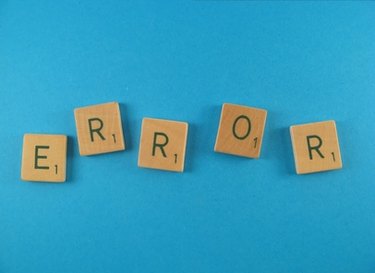 Runtime errors occur when files are missing. If you receive a message that says "Run-time error 9: Subscript out of range," that means Visual Basic is unable to read commands. This error commonly shows up if you attempt to copy pages into an Excel file. Another reason could be that you do not have a default printer on your computer. There are several solutions to fix this Runtime Error 9 problem, so try them all in order.
Add a Default Printer
Step 1
Plug a printer into your computer, plug in the power cord and turn it on.
Step 2
Go to "Start" > "Control Panel" > "Printers and Faxes."
Step 3
Click "Add a Printer" and follow the instructions on the screen to add a default printer.
Install Updates
Step 1
Go to "Start" > "Control Panel."
Step 2
Click "Windows Update" to see if there are any updates available for your computer.
Step 3
Click "Check for Updates" and then download and install any recommended files.
Scan the Registry
Step 1
Download and install a Registry cleaner. (See Resources.)
Step 2
Open the program and direct the program to scan your Registry. It will find any files that are damaged.
Step 3
Direct the program to fix the Registry errors automatically. Restart your computer when the program is finished fixing or restoring any corrupted files.