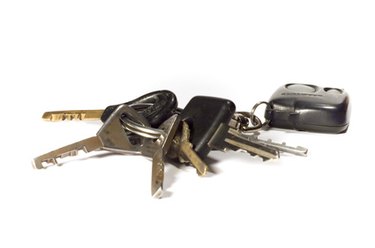 A digital picture viewer keychain is a great way to display photos for friends, families and clients. A digital frame can hold different numbers of photos, depending on the memory size. Picture keychains work like external hard drives. They hold a specific amount of data and display it on the screen. Two different formats are available: FAT32 and NTFS. Most of these devices come formatted with FAT32, which won't hold images over 4 GB. There is a simple way to reformat the device to NTFS, which stores files of all sizes.
Preparing the Device
Step 1
Attach the digital picture viewer keychain to the computer via the USB port.
Step 2
Back up all the files stored on the digital picture viewer keychain. Reformatting the device automatically erases anything stored on it. Save any files you want to keep to a folder on the computer.
Step 3
Erase all files stored on the device. This step makes the formatting process smoother.
Instructions for PC
Step 1
Go to the "Start" menu, right-click "Computer" and click "Manage."
Step 2
Click on "Storage" to manage the storage device. Click on "Disk Management." This will bring up a list of drives that are available on the machine.
Step 3
Right-click on the name of the digital picture viewer keychain. Click "Format" and change the file system to either "FAT32" or "NTFS," whichever you prefer. Click "OK" and the disk will format to the specifications.
Instructions for Mac
Step 1
Go to the Finder and click on "Macintosh HD." Click on "Applications."
Step 2
Scroll to the bottom of the list and choose "Utilities" and "Disk Utility."
Step 3
Click on the name of the digital picture viewer keychain.
Step 4
At the top of the dialog box, click on the button that says "Erase." Change the disk format to "Mac OS Extended Journal" in the pull-down menu. Click on "Erase" at the bottom of the screen.