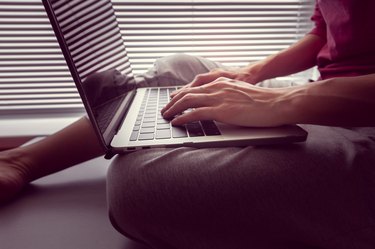 SD cards are used in a variety of devices including gaming consoles, cameras and camcorders. Card data can sometimes become corrupt, and the card may need to be formatted again to work properly with your device. Fix your faulty SD card by formatting it with your Mac computer.
SD Card Formatting Considerations
You need to check some things on your SD card before formatting or reformatting it on your Mac. Learn what type of SD card it is by looking at the label on it. The three most common SD card types are SD, SDHC and SDXC. Standard SD cards are used on most devices that accept an SD card, while SDHC and SDXC cards are typically used for digital cameras and camcorders. Do not format an SDHC or SDXC card on a Mac, as any of the Mac OS X Extended types will typically make it incompatible with your camera or camcorder. Make sure that the "Lock" switch on the SD card is in the unlocked position before attempting to format or reformat the card.
SD Card Format Type
Failure to format your SD card with the correct format type can result in a card that cannot be read by your Mac computer. You can format the SD card in one of several formats including MS-DOS (FAT), ExFat, OS X Extended (Journaled), OS X Extended (Case-sensitive, Journaled), OS X Extended (Journaled, Encrypted) and OS X Extended (Case-sensitive, Journaled, Encrypted). The option you choose depends on the size of the SD card and the version of Mac OS on your computer. Select ExFat if your SD card is 64GB or larger, and you are running Mac OS Lion or later. Select MS-DOS (FAT) if your SD card is smaller than 64GB or your Mac OS is Snow Leopard or earlier. Do not select any of the OS X Extended versions as this may make the SD card incompatible with other devices.
No SD Card Slot
Most Mac computers don't come with a built-in SD card slot. Even if your Mac computer doesn't have an SD card reader, you can still format an SD card on your Mac by using a USB SD card reader. You can purchase this card reader from most local electronics stores and online retailers. Make sure to select a USB SD card reader that includes a slot for standard SD cards and not just microSD cards.
Format SD Card on Mac
You format or reformat an SD card on your Mac with the built-in Disk Utility app. Plug the SD card into the Mac's SD card slot or a USB SD card reader. Open the Disk Utility app by clicking the magnifying glass in the top right corner of the screen and typing in "Disk Utility." Press the "Return" key to open it. Click on the SD card in the left sidebar of Disk Utility and then click "Erase." Click the "Format" menu and select either "MS-DOS (FAT)" or "ExFat" for the format type depending on the size of the card. Click the "Erase" button to format the SD card. Do not unplug the card until Disk Utility tells you it is safe to do so and make sure to click the "Eject" button next to the card name before unplugging it.