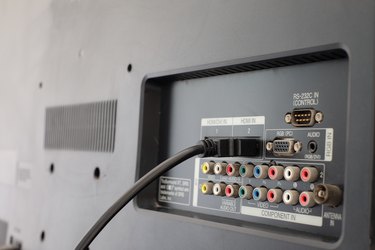 The LG TV USB port or ports are designed for differing uses based on the actual TV model. An LG smart TV USB input, for example, may accept a mouse or keyboard while an older model is simply a port for scanning the TV for issues and maintenance codes. Ultimately, determining the uses for USB ports on an LG TV requires a visit to your owners manual. The models all vary in use, and the ports have a major impact on the television uses and capabilities. The ability to connect outside devices and use the TV for uses beyond basic viewing are often determined by the USB types on LG models.
Determine the USB Functions
Locate your LG TV USB port or ports along with the TV manual. If you don't have the original manual, locate the model number and look up your manual online. If that search fails, check with the point of purchase for a replacement manual. The manual will tell you the specific functions for each USB port. Models made before 2010 will have only a single USB port, and it doesn't work with external drives or media. The port is solely for running a diagnostic test on the television to determine and resolve problems. The older models don't work with an LG TV memory stick, LG TV flash drive or any external output.
Smart TV Models
If your TV was made after 2009, it likely has one or more USB ports for multimedia purposes. Again, check the manual to determine the exact uses for each port. You may have the ability to connect an external mouse or keyboard, a drive like Amazon's Fire Stick to access an entire suite of media or an external hard drive to view photos, video and other media files. Each port serves a specific purpose, and you can stream video and connect your phone or other external devices like a game console. The USB connections are most common for connecting USB drives and linking external devices to your TV.
Labeling Ports
After you determine which USB ports are capable of connecting specific devices, label the ports so you know their intended use in the future. This will save time and make it easy to quickly connect and stream content through your LG TV. Purchasing an extra USB cord that connects to your most frequently used devices and leaving it on the TV is also a useful method enabling quick connections.
LG TV USB Port Troubleshooting
When you are using a USB port for the correct function and it fails to work, you may have a hardware malfunction. Remove the external device and the cord. Attempt plugging a different compatible device into the port. Use a different cord as well. This will rule out the device and the cord as the problem. If the USB fails to read, clean the internal port and try again. A failing USB port often means the television requires an update. Run any relevant updates to the firmware and your USB should work again. If this fails, the actual USB hardware may have a problem that requires professional assistance.