Most Vizio flat-screen TV units have one or more USB ports on the back or side. On many Vizio models from 2009 and earlier, a USB port is for service use only. A technician uses a service port to perform diagnostics, troubleshoot problems and apply firmware upgrades. However, USB ports on newer "smart" TVs, which interface with the Internet, can support a variety of uses.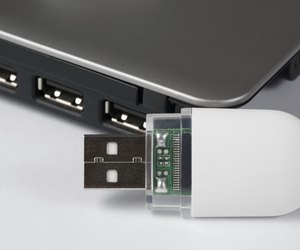 credit: renatasz/iStock/Getty Images
Read the Owner's Manual
Before you try to use a USB port on your TV, read the owner's manual. The USB port could be only a service port, and you could damage the port or your TV if you use it incorrectly. If the USB port is not restricted to service, any media you connect to it must be formatted with a FAT32 or NTFS disk format.
Supported Usage
Not every Vizio TV series supports the same USB usage. However, a USB port on a Vizio TV typically supports a flash drive and an external hard disk drive or other USB Input/output device from which you can watch a downloaded movie, view a slide show of photographs or listen to saved music. You can also charge your cell phone, tablet computer or other device with a USB interface. On the newest Vizio models, the USB port can be used to display just about any saved content on a USB-compatible storage device.