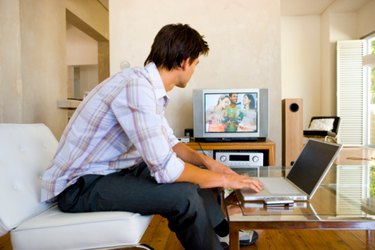 VLC is a free and open-source media player which runs on a variety of operating systems including Windows, Mac OS X and Linux. VLC supports closed captioning, a system of displaying text for the hearing impaired which summarizes the audio in a media file. Closed captions are distinct from subtitles in that they include more information than just the spoken words and are implemented differently than plain-text subtitle files. VLC supports enabling closed captioning support and selecting it on a per-file basis from its menu.
Step 1
Download and install the latest version of VLC from the official website, if you don't already have it (see Resources). Older versions of VLC don't have closed captioning support.
Step 2
Open VLC by clicking "Start," "All Programs," "VideoLAN" and "VLC Media Player."
Step 3
Click "Tools" and "Preferences."
Step 4
Click "All" under "Show Settings" at the bottom of the preferences window.
Step 5
Click the arrow to the left of "Input / Codecs" in the preferences window and click the arrow to the left of "Subtitles Codecs" under it.
Step 6
Click "VBI & Teletext" in the list.
Step 7
Click the "Teletext Text Subtitles" box and click "Save."
Step 8
Open a media file containing closed captioning information by clicking "Media," clicking "Open File," navigating to the file and double-clicking it.
Step 9
Click the "Video" menu, hover the cursor over "Subtitles Track" in the menu and click "Teletext" in the list.