The iPhone includes a keyboard with hundreds of emoticon images, and many third-party apps offer extra emoticon animations and icons. By enabling the Emoji keyboard in Settings, you can add emoticons to a text message, Facebook post, folder name or any place you type characters. Many third-party apps enable you to create new emoticons with images from your iPhone, and you can access your entire emoticon library from the Emoji keyboard by tapping the globe icon when typing.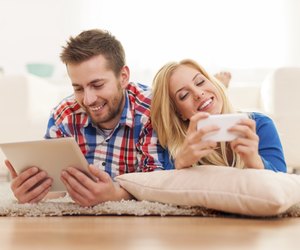 credit: gpointstudio/iStock/Getty Images
Enable the Emoji Keyboard
Step
Select "Settings," "General" and "Keyboard." From the Keyboards submenu, select "Add New Keyboard." Scroll down the menu and select "Emoji."
Step
Open an app that accepts text input, such as Notes or Messages. Tap a text field to display the software keyboard, then select the "World" icon to the left of the space bar. If you've enabled several keyboards in Settings, touch and hold the globe icon and select "Emoji." The Emoji keyboard slides up from the bottom of the screen.
Step
Select an emoticon theme from the menu bar. For example, tap the smiley icon to display the traditional smiley face theme. Swipe to the left or right to browse your library, and add an emoticon at the current cursor position by selecting an image from the keyboard.
Step
Return to the original keyboard by tapping the globe icon in the menu bar.
Install More Emoticon Themes
Step
Open the App Store and search for a third-party app such as Emoji>, Emoji 2 or NinjaEmoji (links in Resources). Simply searching for "Emoji" displays a large selection of free emoticon apps with similar features.
Step
Select an app to install it on your device. After the installation, you can usually access your new themes from the Emoji keyboard menu bar by tapping the globe icon when typing. However, some apps require you to copy emoticons to the clipboard and paste them into a text field, so read the app's description before installing it to find out which method it uses.
Step
Open the Emoji app to explore its additional features. While NinjaEmoji simply adds a whimsical ninja-themed category to your keyboard, Emoji> and Emoji 2 include features such as text-to-emoji conversion and custom emoji creation.
Step
Select an option from the app's menu, such as "Word Creation" or "Custom Emoji." The options may have different names depending on the app you use, but the features work essentially the same way. For example, after selecting "Word Creation" or a similar option, create characters and words from emoticons by typing a message in the text box and selecting an image from the menu. The app converts each character to ASCII art based on the selected image, and you can paste it into any app.