Joining a book club encourages you to read more, to read books you might not have otherwise read and to make social connections while thinking critically, according to The Reading Club website. Goodreads, the social media site for avid readers, is a virtual version of a book club. Getting more friends on Goodreads affords you more opportunities to discover new books, engage in meaningful discussions and share your passion for favorite classic and mainstream, fiction and non-fiction books alike.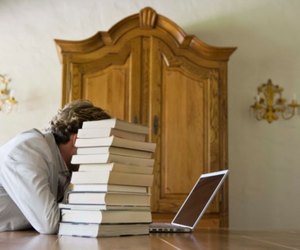 Step
Log in to Goodreads.
Step
Invite your own friends. Before you search for new friends on Goodreads, encourage your existing friends to sign up for a Goodreads account and friend you on the site. Goodreads has an easy "Add Friends" tool that searches through your existing friends list on social media platforms such as Facebook and Twitter as well as your contact list in mail services such as Yahoo! Mail, AOL, MSN Mail and Gmail.
Click the "Add Friends" button on the drop-down list under "Friends" on the main Goodreads page that appears after you log in. Select a social media or mail option, log in to your account via the Goodreads "Add Friends" page and check which friends you want to invite.
Step
Join a Goodreads group. Participating in a group discussion will introduce you to other readers who also enjoy that book, genre or author. To join a group, click on the "Groups" button on the main Goodreads page. Enter a search term -- such as a specific book, a series of books, an author or a genre -- and peruse the existing groups. You can also browse through groups by categories. If you can't find the group you're hoping to find, start a group of your own.
Step
Add friends of friends. Once you've made a few Goodreads friends, you can easily try to add their friends to your own friends list. When you're on the "Add Friends" page, notice the "View Friends of Friends" button on the upper right corner of the page. Click on it to see a list of friends of friends, organized in order of the people whom you're most likely to know. (The people you're most likely to know are the ones who share the most friends with you.) Click "Add" to the left of any friend of a friend whom you recognize from offline or from group discussions.
Step
"Add" a new friend on her profile. When you've established yourself in book discussions in groups and on book pages, you may encounter someone whom you'd like to friend. To invite this person to be your friend, click on her name. This will take you to her profile. Locate the "Add as a Friend" button under her information near the top left of the page. Click on this button to invite her to become your Goodreads friend.