Kindle's Voice Guide software is a relatively new addition to the Kindle platform designed to make navigation easier for the vision-impaired. If you do not need this feature, or would rather turn it off, you can change its settings directly through the Kindle interface. You'll find the necessary settings tucked into Kindle's accessibility options.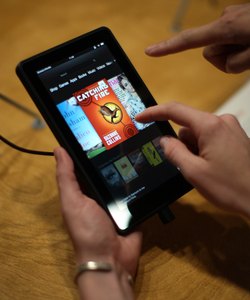 credit: David McNew/Getty Images News/Getty Images
Step
Swipe down from the top of the screen and select "More."
Step
Touch "Accessibility." Locate the "Voice Guide" setting.
Step
Select "Turn Off." When Voice Guide is disabled, the option next to it will read "Turn On."