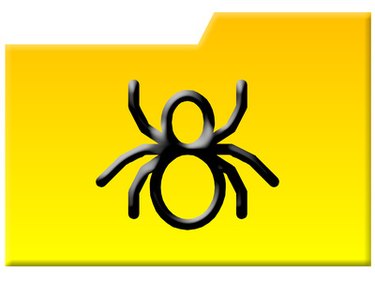 Computer viruses are programs designed to infect one computer, reproduce and spread to additional systems, according to Microsoft. Viruses are designed to perform different tasks that harm your computer. As a result, if your Dell laptop shows symptoms of a virus—crashes, slow performance or unusual error messages, for example—you should remove the virus as soon as possible to prevent damage or data loss. Dell laptops come with a trial version of McAfee Security Center installed. To get rid of a virus on a Dell laptop, you can run anti-virus tools, which identify, locate, quarantine and remove viruses and other malicious software.
McAfee Security Center Virus Scan
Step 1
Open your Dell laptop's anti-virus program. When you bought your laptop, you received anti-virus trial software. Click "Start" and point to "All Programs" and select the software—McAfee Security Center, for example—to open the software. If your trial expired, connect to the Internet to complete the purchase when prompted.
Step 2
Click "VirusScan Console." If a window appears asking if you would like to use the program, select "Yes."
Step 3
Right click "Full Scan" then left click "Start." It can take several minutes to several hours to complete the scan. When the scan finishes, close the scan software and restart your computer. Scan the computer again to make sure the system is clean.
Malwarebytes' Anti-Malware Virus Scan
Step 1
Go to the Malwarebytes website to download the free anti-virus program. Click the "Download Free Version" button to initiate the download.
Step 2
Open the installation wizard. Navigate to the save location and double click the program icon to begin the installation. This opens the installation wizard, which guides you through the installation process.
Step 3
Open the Malware Bytes' Anti-Malware program. Click "Start," point to or click "All Programs." Point to the "Malwarebytes'" folder and click "Malwarebytes' Anti-Malware" to open the program.
Step 4
Click the "Perform Full Scan" radio button. Click the "Scan" button. Wait for the scan to complete. The program provides a report that details any viruses on your laptop.
Step 5
Click the "Quarantine" tab and click the "Delete All" button to remove the viruses.
Step 6
Click "Start" then "Turn off computer." Click "Restart" to turn off your computer and automatically restart it. This ensures the removal process is complete.