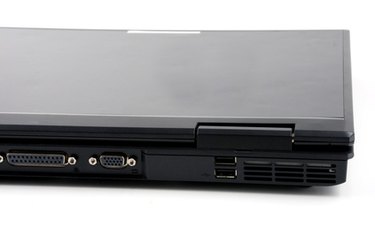 HDMI (high-definition multimedia interface) is frequently becoming an option with laptop computers for sending the video (and sometimes audio) signal to an external monitor, such as a flat-panel TV. HDMI inputs are becoming standard with HDTV sets, and some also offer specific PC HDMI ports as well. HDMI can convey video and audio in the same cable, and in some cases nothing more is needed to get PC audio on the TV. But with certain laptops and/or TVs, more cables or actions are required to make this audio connection.
Step 1
Connect an HDMI cable from the HDMI output on the laptop to an HDMI input on the TV, or the specific PC/HDMI input if your TV offers that option. Take any steps necessary to route the signal from your laptop to an outside monitor (such as pressing "FN" and "F5" simultaneously, and use the TV's remote control to set the TV to that chosen input for viewing. If the audio comes through the TV's speakers when viewing content such as streaming Internet video or a DVD, no further action is necessary.
Step 2
Connect a 3.5mm single-pronged stereo audio cable (or 3.5mm to composite RCA cable, for TVs with this HDMI audio input option) from the laptop's line-out/headphone jack to the audio input jack accompanying the PC/HDMI input on the TV, if your TV features this input option and the audio was not conveyed through the HDMI cable. Connect the HDMI cable (or a VGA or DVI to HDMI adapter cable for older laptops) for video as well, and perform the function that routes the signal to an outside monitor and set the TV to that input. With some equipment, the audio will then be sent to the TV just as it would to a pair of speakers or headphones.
Step 3
Right-click the volume control icon on the bottom taskbar and click on "Playback Devices" to open the pop-up window for sound options. In the "Playback" tab, select "Digital Output Device" or "HDMI" as the default device, click "Set Default" and click "OK" to save the changes. This method works with a straight HDMI-to-HDMI connection; DVI or VGA to HDMI will still require the 3.5mm audio cable connection and "Speakers" will remain the default device.
Step 4
If you are still not hearing the audio through the TV's speakers, ensure that the volume is turned up on the computer settings and on the TV, and that neither is set to mute.
Things You'll Need
HDMI cable

3.5mm audio cable
Tip
Different makes of laptop may use slightly different terms or commands, but the concepts will remain the same. Contact your manufacturer's support for additional information for routing the audio with your particular model.