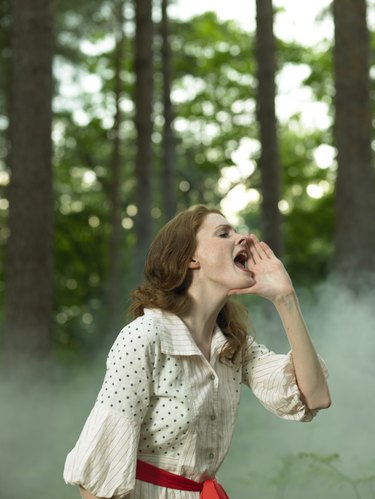 One of the most interesting and exciting ways to discover new Instagram accounts to follow may be the shoutout. Shoutouts are simply recommendations of other Instagram accounts that your followers may find interesting and enjoyable. Shoutouts can be a good way to help others build their Instagram following -- and they may just return the favor.
A shoutout includes a screenshot of the other user's Instagram account. To capture a screenshot on iOS or Android phones, simply navigate to the Instagram profile you want to do a shoutout for. On iOS phones, hold the Home button and the Sleep/Wake button simultaneously. Your device will make a clicking sound that indicates the image was captured and saved to your camera roll. With an Android phone, hold the Volume Down button and the Power Button simultaneously to capture the screenshot and send it to your camera roll.
To add the screenshot, touch the Photo icon in your Instagram account. On the iPhone, this icon is on the left side of the screen and appears as a series of small squares. On Android phones, you see nine small boxes on the left side of the screen. Instagram then accesses your camera roll. Choose the screenshot of the account to which you want to send a shoutout from the camera roll, and then click Next. You will be prompted to add filters and edit the photo if desired. Click Next again to approve the photo and add a caption for the shoutout.
The key ingredient of the Instagram shoutout is the "@" sign, also known as the tag sign, because that symbol precedes every Instagram account name. Therefore, the text in a typical Instagram shoutout might look something like "Follow my friend @xyz. They have some great photos!"
Simply type any message you like into the Write a Caption area once the screenshot is loaded. Your followers can click on the account name to go directly to that account. While not a mandatory part of the Instagram shoutout, you can add hashtags (the "#" sign) to the post. Usually, these hashtags will include phrases like "#shoutout," and possibly phrases related to the username of the account to which you're giving the shoutout. Click Share to send the shoutout to all your Instagram followers.