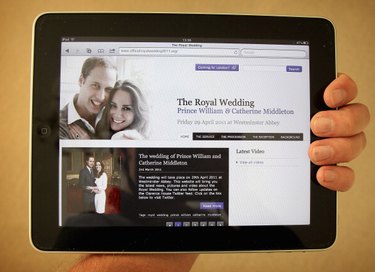 On an iPad, you can use both a menu and a bar to conveniently save bookmarks of your favored and frequently visited websites. But if using Safari's Bookmarks menu is sufficient and you'd like to maximize your iPad screen for website displays, you can hide your Bookmark Bar. The process of hiding the Safari bar is as straightforward as it gets.
Step 1
Tap "Settings" in your home screen.
Step 2
Select "Safari" on the left pane.
Step 3
Tap the "Always Show Bookmarks Bar" switch on the right to toggle it "Off."
Step 4
Click the "Home" button below your display to return to your home screen.
Step 5
Tap "Safari" to confirm your new setting. Your "Bookmarks Bar" should no longer appear at the top of your Safari screen.