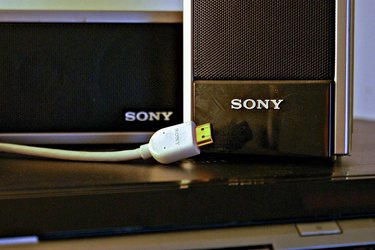 Sony's S Master digital amplifier series is designed for use with high definition television. The amp connects to the HDTV with a High Definition Media Interface (HDMI) cable. This 19-pin cable transmits high definition video signals and up to eight channels of digital audio. The cable installs in seconds for fast setup. Add a Blu-Ray player to start watching high definition movies in five minutes or less.
Step 1
Locate the four HDMI OUT jacks on the back of the S master amplifier.
Step 2
Connect an HDMI cable to any of the available HDMI OUT jacks. The plug inserts with the wide edge turned upward.
Step 3
Connect the other end of the cable to the television's HDMI IN jack.
Step 4
Connect source components for audio/video signals to the remaining HDMI jacks on the Sony amplifier. For example, a Blu-Ray player and a digital cable or satellite receiver box can also be connected to the Sony digital amplifier, which can process the signals and transmit them to the television.