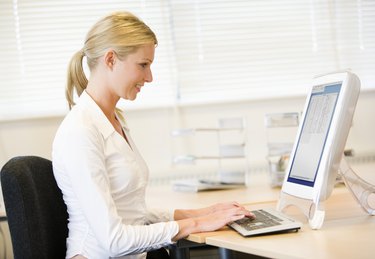 Intuit, makers of both Quicken personal accounting software and QuickBooks small business accounting software, have had a big impact in both markets. Both programs have a large number of users, and many use both Quicken and QuickBooks. This brings about the need for some users to import data from Quicken into QuickBooks. Intuit developed the .QIF file type to transfer data between different Quicken data files, or from financial institution's websites into the Quicken program. If you are using a version of Quicken 2004 or earlier, you can import these Quicken .QIF files into QuickBooks Pro.
Step 1
Take note of the location on your computer hard drive of the .QIF files you wish to import into QuickBooks. You will need to be able to navigate to the appropriate folder later.
Step 2
Launch your QuickBooks Pro software, and click on the "File" menu.
Step 3
Click on "Import" and then select "Convert from Quicken." A dialog box labeled "Convert a Quicken File" will open.
Step 4
Navigate to find the .QIF files that you wish to import, and then click on the button labeled "Open." Follow the easy on-screen prompts, and you will have successfully imported your files.